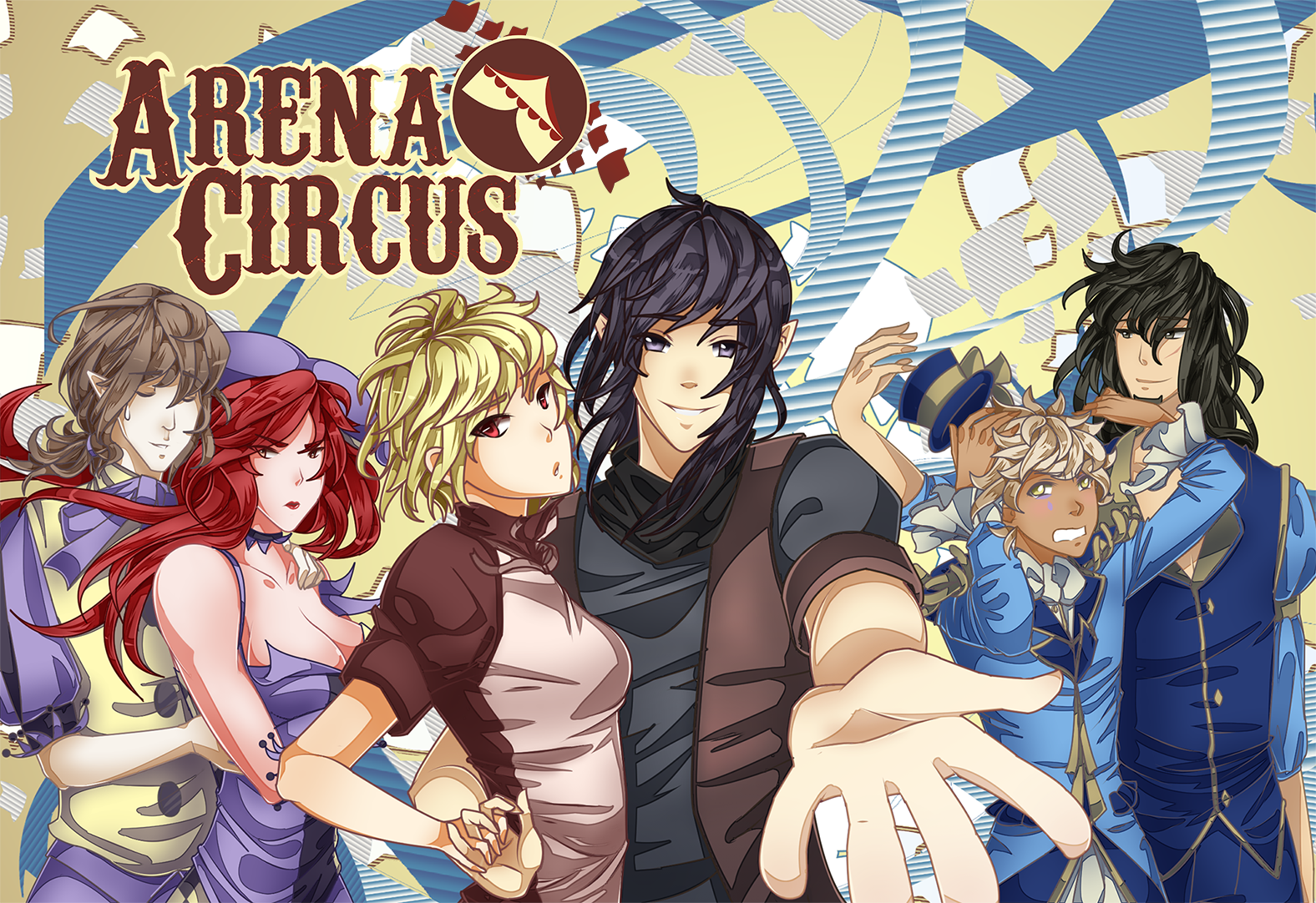 Arena Circus
A downloadable Visual Novel for Windows, macOS, and Linux
A visual novel set in a fantasy world where appearance is everything and humans are at the bottom of the totem pole. Aldrich and Lilié are trying to battle their way to the top of a world that looks down on them- and soon it will become far more than just a matter of pride.

Release of next chapter: Around April? Maybe?
Currently, there are 2 out of 6 chapters complete.
Updates 3/12:
+ Hi guys, big news! With BGs done, only CGs left for the art of Arena Circus. Extra AC golden assets will be started once those are done!
Support me on Patreon for early access, freebies, and other fun features like putting your own clothes in the game, and getting your very own Arena Circus gag VN made here!
Current release stats:
Lilie's route (only, Aldrich currently unavailable)
Rating: 16+ for language and suggestive themes.
Gameplay time: 3 + hours
65,000 + words

13 CGs
35 clothing items
Follow me on twitter (@CapMinyan) for the latest sneak peaks and progress updates!

The two protagonists are Aldrich and Lilie (the player will
be able to give them their own names depending on who
they choose). Arena Circus is set in a fantasy universe where
physically superior beings knowns as 'Reavers'
rule over high society and have established a strict
caste system, with humans at the bottom. In order
to have any sort of nice lifestyle the humans seek out
strong Reavers and allow themselves to be bonded
as a 'Harlequin'. Some humans then are used as servants,
jesters, pleasure slaves, etc, but most are forced to
duel in arena-styled tournaments.
Some questions for those who have the time:

1. Did you enjoy it overall?


2. What was your favorite part?


3. There are a lot of comedic moments, but was the drama included in a way that was able to put the comedy aside, or did it just seem an odd jump from comedy?

4. Who is your favorite character?


5. Who did you start to romance? Did you find it difficult romancing the person you wanted?


And I'd love to see screenshots of the outfits you guys put together!
(For the finished game)

+ A story filled with drama, comedy, romance, and two distinct branches, with several possible endings for each. Which side will you choose?

+ Free roam where you can move around, find different characters in different locations, shop for clothes, and complete side quests to earn money for clothes. Scenes you might find include world building information, character backstories, will strengthen your relationships with the characters, or might just be good for a laugh ;D

+Two characters you can play as, one male one female. Both of them are bisexual.
+3 possible romances, one G x G, one G x B, and one B x B

+ A battle system featuring timed choices. Winning or losing could take you down very different paths.
+ 6 chapters
+ 36 CGs (tentative number)
+ Main character customizable sprites with clothing available for the head, torso, leg and feet, as well as accessories.
Lillie's route will be done first.

I again just want to thank everyone who's followed this and added your comments, it means so much to me and has really been motivation to keep going.
More info:
Arena Circus (regular):
The full game will be COMPLETELY FREE. None of the main story or any CGs will be left out of the free version.
Arena Circus Guide:
(The guide book is currently only completed up to chapter 1. Chapter 2 guide will be released when Chapter 3 is)

This will include the extra content below:
+ Art book
+ Walkthrough
+ Where to find every scene
+ Where to find all the clothes
+ How to romance each character
Arena Circus Golden:

+ Extra clothes

+ In game unlockable scenes list
+ In game stats to see how many clothes you have left to find.
+ Epilogues
+ Discount (If you buy it early, before the game is complete, you'll get all future updates (next chapters, etc) for free. Once chapter 6 is done the whole package will be $10, so buy early if you want a discount!)
I am constantly working on Arena Circus and you can follow me on twitter (@Capminyan) for future updates!

| | |
| --- | --- |
| Published | 363 days ago |
| Status | In development |
| Platforms | Windows, macOS, Linux |
| Rating | |
| Author | Minyan |
| Genre | Adventure |
| Tags | Comedy, Fantasy, LGBT, LÖVE, Otome, renpy, Romance, Visual Novel |
| License | All rights reserved |
| Asset license | All rights reserved |
| Average session | A few hours |
| Languages | English |
| Inputs | Keyboard, Mouse |
| Accessibility | Subtitles |
Download
Click download now to get access to the following files:
Arena Circus Guide (Sample)
8 MB
Arena Circus (3.3)
151 MB
Arena Circus Guide
31 MB
if you pay $3.00 USD or more
Arena Circus GOLDEN (3.3)
151 MB
if you pay $3.00 USD or more